Bishopsbourne's Spitfire
---

Image: Spitfires of 222 and 603 Squadrons at Hornchurch, 1st September 1940
(From http://www.spitfireperformance.com/spit1vrs109e.html)
Whoever else you may be thinking of on Remembrance Sunday, I would ask that you spare a thought for the Battle of Britain airman shot down and killed in Bishopsbourne at 18:05 on 30th August 1940. He was Sergeant Joseph Inkerman Johnson and he was 26.
"Joe" Johnson, as he was known, joined the RAF in June 1935 as an Aircrafthand, in fact a carpenter, but his heart was really set on being a flier. He was later re-mustered as an Airman-in-training Pilot and finally won his wings on 11th August 1939, three weeks before Britain declared war on Germany on 3rd September.
Joe Johnson was in 222 Squadron and had flown 25 missions with them before they were posted to Hornchurch in Essex on 29th August 1940. They were scrambled on Friday 30th August to intercept a big formation of bombers approaching the coast which they did, but they were, in their turn, attacked by the German fighters whose job it was to protect the bombers. Joe's Spitfire, number R6628, and a number of others were shot down that day.
The exact location of the crash is not, as yet, known but there are some important pointers. One of the reference books kept at the Battle of Britain Museum at Hawkinge states that he came down at Longhampark Lodge, now known as Langhampark Lodge. The museum also displays a letter written by the man who lived at Langhampark Lodge, which was also known as Woodgate. His name was H. E. Friend and his letter, addressed to Joe's parents, is dated 16th October 1940.
In it Mr Friend says he saw the Spitfire come down and he and his family ran to the spot and pulled Joe's body clear. He describes the place as being "in a meadow adjoining my meadow" which seems to indicate a meadow nearer to the Farm than to the Lodge and on the slope that lies between the two. Four small trees still standing in a straight line across the slope may well mark the line of a hedgerow that might have been the dividing line between the two meadows at the time. Mr Friend's description of the place seems more accurate than the one given in the story of Joe Johnson on the museum display which says he came down "in a field above Longhampark Lodge", because the Lodge is on the top of the hill and there is, therefore, nothing "above" it. Mr Friend also tells Joe's parents that he was sure that Joe was already dead, killed by machine gun bullets, before his plane hit the ground and burst into flames. This, of course, may have been the case, but it is equally possible that Mr Friend was being kind in re-assuring Joe's parents that Joe had not been burnt to death.
Joe's parents, John Inkerman Johnson and Ellen Amelia, buried their son at Towcester Cemetery in Northamptonshire, near the family home at Hulcote. His grave is Row G. Grave 2, and gives his Service Number 520406.
I urge anyone who is interested in this story to visit the Battle of Britain Museum at Hawkinge where, in addition to all the information on his individual display board, there is a portrait of Joe Johnson. If anyone can shed any more light on the story or knows more on the question of where his Spitfire came down, or if any one can tell me any more about Mr H. E. Friend and his family, I would be most grateful.
Mark Jopling – November, 2007
---
If you have any information about these events, people and places, please use this link to send me a mail which I'll happily pass on to Mark.

Image: A Mk I Spitfire in 222 Squadron markings [http://www.raf.mod.uk/bob1940/213to236.html]
Johnson would have been flying a Mk I Spitfire as the Mk II didn't enter service until late in 1940. The Mk I was in production from 1937 and over 1,580 were built. It had a Rolls Royce Merlin II engine which delivered 1030 hp with a speed of 355 mph and a climb rate of 2,515 ft/min. With oxygen this aircraft had a ceiling of 34,500 ft. Three .303 Browning machine guns in each wing provided the firepower. Johnson's aircraft was produced at Eastleigh and production details can be found on the Spitfire Production pages
Battle-of-britain.co.uk lists Johnson's death and gives the aircraft number as R6629 but the Battle of Britain Historical Society confirm that the aircraft number was R6628 and that R6629 was shot down the day before over Hurst Green and belonged to 610 Squadron based at Biggin Hill.
Johnson is shown on the RAF roll of honour which also confirms that he is one of "The Few"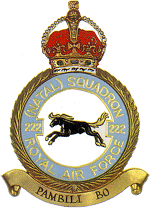 ---